산, 그리고 더불어 삶
글·사진 : 이애경 (작가)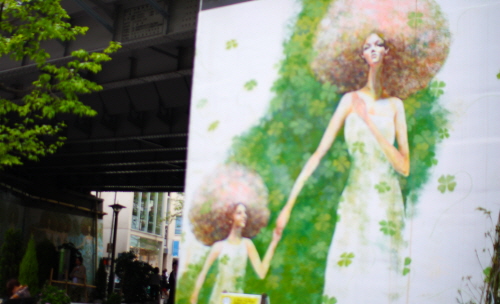 5월 달부터 시작한 산행이 슬슬 재미가 들리기 시작해 일주일에 한 번씩 친한 동생과 함께 산을 가고 있다. 장마라고 했는데 다행히도 아직까지는 비가 오지 않는 장마라 그 틈을 타서 열심히 올라가고 있다. 처음에는 러닝머신이라는 기계 위에서 TV라는 기계를 쳐다보며 뛰는 것이 너무 메마른 것 같아 밖으로 나가기로 결정한 것인데, 정말 잘했다는 생각이 든다. 산은 지금 내게 너무 많은 것들을 이야기해주고 있으니까 말이다.
'더불어'라는 것은 둘 이상의 사람이 함께하는 것 혹은 무엇을 같이 하는 것이라고 사전은 정의하고 있다. 즉, 존재함(being)과 행함(doing)이 필수적이다. 결국 나는 동생과 '더불어' 공존하면서 '더불어' 오르는, 산행이라는 '더불어 삶'을 실천하고 있는 것이다. 이 존재함은 친밀감을, 그리고 행함은 성취의 기쁨을 가져다 준다.
누군가와 함께 있다는 것은 친밀감을 높인다. 특히 산이라는 특별한 공간 속에서는 더 그러하다. 게다가 산은 함께 올라야 하는 목표가 있다. 서로 밀고 이끌어주며, 또 컨디션을 챙겨가며 정상을 향해 올라가는 도전을 한다. 그 과정 속에서 서로를 더욱 잘 알게 되고, 또 성취의 기쁨을 느끼게 된다.
삶이라는 것은 산을 올라가는 것과 같다. 올라가다 쉴 수 있는 그늘도 있고, 근육의 뻐근함을 느끼며 올라야 하는 길도 있고, 공기 좋은 오솔길도 있지만 무섭고 가파른 바위도 있다. 올라가다가 보면 내려가는 사람도 만나고, 돗자리를 펴놓고 밥을 먹으며 한숨 쉬어가는 사람들도 보인다. 어떤 사람은 힘들게 가고 어떤 사람은 쉽게 간다. 어떤 사람은 몸집만한 배낭을 짊어지고 오르고, 어떤 사람은 작은 손가방 없이 달랑 빈손으로 오르기도 한다. 인생이라는 산 안에서 우리 모두는 자기의 목표를 향해서 자기의 페이스로 삶을 살아나간다.
더불어 산다는 것은 결국, 살아가면서 타인들과 많은 친밀감과 기쁨을 나누는 것을 의미한다. 삶을 함께 오르며 손을 잡아주고, 서로 이야기를 나누고, 누군가 힘들면 같이 쉬어가고, 길을 잃은 사람에게는 길을 알려주고, 오르내리며 만나는 사람들과 미소를 나누는 것. 그렇게 서로를 알아가고, 보듬고, 아끼는 것. 목적지에 오를 수 있도록 격려하고, 오른 사람들에게는 환호와 박수를 보내는 것. 이것이야말로 아름답게 더불어 사는 삶이 아닐까.
_이애경은 호기심이 많아 기자가 되고 나서야 글쓰기를 좋아한다는 걸 알게 되어 지금까지도 글을 쓰는 자리에 머물러 있다. 음악잡지[SEE] 편집장, [굿데이] 연예부 기자로 활동했고, 가수 조용필, 윤하, 유리상자의 작사가로 활동하며 노래에 이야기를 담아주는 일을 하고 있다. 감성에세이 [그냥 눈물이 나]를 집필했다. 글에는 치유의 힘이 있다는 것을, 용기와 힘을 준다는 것을, 생각을 변화시키는 기적이 담겨있다는 것을 알기에 오늘도 그녀는 세상을 여행하며 글을 쓰고 있다.
The mountain and Living Life together
written & photo by LEE Ae-kyung (Writer)
Since May of this year, I've made the decision to go hiking with a close friend, much younger in fact, but a loyal companion nonetheless. As the months grew closer to Monsoon season I worried that the rain would get in the way of our hiking adventures, but as luck would have it, the rain held off a little longer, enabling us to keep climbing. Prior, I had been feeling claustrophobic from my mundane runs on the treadmill and had determined to find activities outside. Although, as a consequence of despising the mini-television above my running machine, I have since realized that the decision to go hiking has been better than I bargained for. Why, you may ask? Because, not only has the mountain helped my legs become toned, it has also been teaching me a few things on the way up.
Living life together is defined as two or more performing an action in cohesion. It's crucial that the two are 'being' and 'doing' simultaneously. According to this definition my hiking trips with my young friend have been a clear example of doing/living life together. On each climb, we have fully experienced the feeling of just "being" and "doing".
An event, an activity, ect with someone other than yourself will increase your intimacy with that person. Especially when you're together in a physically demanding situation such as hiking a mountain. Not to mention, both of you are connected by the strange penchant to hike to the top despite warning of danger and difficulty. Eventually you realize that in order to make it the top in one piece, you'll need to care for the other's emotional, mental, and physical health along the way. Through the ups and downs, you come to discover hidden facets of the person, inevitably developing a tighter kinship and feeling of comadarieship.
Hiking a mountain is very much like the metaphorical climb of life. There will be moments during your hike when the muscles in your body start telling you to stop, turn back, don't-go-further, until suddenly there is a small place for you rest and lay down your broken body. Before you know it, you'll be ready to get up and go again. There will be moments when the air is sweet and the beauty is breathtaking. But there will be points when the path seems to have suddenly stopped and the road ahead looks un-hikeable.
Along the path you'll meet every type of person, some will already be on their way down, others will have laid out their picnic basket, broken out the soju, and taken a nap! There will be those that are huffing and puffing all the way up and others that make it look like they are effortlessly floating. Some people will be carrying loads of heavy baggage, whereas some will go up empty handed. The path and the climb might look different, but we all have a purpose along the mountain, we're all on the way to "somewhere".
Along this "somewhere", it's quite possible to live a shared life by exchanging each other's joys and burdens. As you go up the mountain, sometimes situations call for you to grab the hand of your companion and give them the extra boost to keep going. There will be people along the path asking for directions, moments to exchange a quick smile, and an unspoken word. The few conversations along the path that are laced with depth, emotion, advice, and wisdom provide the necessary seasoning to make the journey up that much more exciting. The stories told, and the time spent together drive the deeper connection with the person next to you.
The truth is that like the mountain path, life is difficult and unsure, but when you've invested in the walk to the top with people you love, the journey becomes just as significant as reaching your goal. Don't try and climb alone, it's just not as fun- instead take the time to hear someone's story, help them climb that boulder, and send them claps along the way, and I promise that you'll be living out the true meaning of a living life together.
translated by Lime(www.crankysisters.com)
山、そして共に生きる
文・写真:イ・エギョン(作家)
5月から始めた登山がだんだん楽しくなり週に一度、親しい知人と一緒に山に登っている。梅雨と言っていたが、幸い雨は降らない梅雨であり、その隙を狙い頑張って登っている。最初はランニングマシーンと呼ばれる機械の上でTVという機械を見つめながら走るのがあまりにも乾いたようで、外に出ようと決めた事だが、本当によかったと思う。山は今の私にたくさんの事を話してくれるからである。
'共に'というのは二人以上の人が一緒にする事、または何かを一緒にすることと辞書は定義している。つまり、存在する(being)と行う(doing)が不可欠である。結局、私は知人と'共に'共存しながら'共に'登る、登山という'共に生きる'を実践しているのである。この存在することは親密感を、そして行うは達成の喜びをもたらしてくれる。
誰かと一緒にいると言うことは親密さを高める。特に山と言う特別な空間の中ではよりそうである。さらに山は一緒に登るという目標がある。お互いを引っ張り合い、また体調を気遣いながら頂上に向かって登るという挑戦をする。その過程の中でお互いによく知ることになり、また達成の喜びを感じるようになる。
生きるというのは山を登るようなものだ。登りながら休める日陰もあり、筋肉の張りを感じながら登る道もあり、空気の美味しい小道もあるが、厳しく急な岩もある。登りながら降りてくる人にも会ったり、シートを広げて食事をしながら一休みする人たちも見られる。ある人は苦労し、ある人は簡単に登る。ある人は大きなリュックを背負って登り、ある人は手提げバックなしで手ぶらで登ることもある。人生という山の中で私たちのすべては自分の目標に向かって自分のペースで人生を生きていく。
共に生きると言うことは、結局、生きながら他人との親密感と喜びを分かち合うことを意味する。人生を一緒に登りながら手をつなぎ、お互い話し合い、誰から疲れたら一緒に休んでいく、道に迷った人には道を教え、登り、降る人々とは笑顔を分け合うこと。そうしてお互いを知り、抱いて、大切にすること。目的地に登れるように励まし、登った人々に歓声と拍手を送ること。これこそ、美しく共に暮らす人生ではないだろうか。
_イ・エギョンは好奇心が多く、記者になってから書く事が好きだと言うことに気づき、今まで物書きとして留まった。音楽雑誌「SEE」編集長、「GOOD DAY」芸能部記者として活動し、歌手チョ・ヨンピル、ユンハ、ユリサンザの作詞家として活動しながら歌に物語を入れる仕事をしている。感性エッセイ「ただ涙が出るの」を執筆した。文には治癒の力があると言うことを、勇気と力をくれることを、考えを変える奇跡が込められている事を知っているため、今日も彼女は世界を旅しながら書き続いている。
translated by Kong Sung-eun
山、並且一同活
文章・照片:Lee Ae-kyoung (作家)
從5月開始的登山活動漸漸變得快樂、每週一次會與親近的熟人一起爬山。雖然說是梅雨季、不過幸運的是沒有下雨的梅雨季、趁著那空檔努力的爬山。剛開始是在被稱作為跑步機的機器上一邊看著電視一邊跑但似乎太無趣了、所以決定出去外面、我真的覺得這個決定很好。因為山會跟現在的我說很多事。
'一同'意思是二人以上的人一起做的事、還有一起做某件事、辭典是這樣定義著。也就是、存在(being)與進行(doing)是不可缺少的。結果、我與熟人'一同'一邊共存著'一同'爬山、實踐著稱作登山'一同生活'。這個存在帶來了親密感、並且進行完成的喜悅。
所謂的和某人在一起使得提高親密。特別是在稱為山的特殊空間中更是如此。加上有著一起爬山這樣的目標。互相扶持彼此、而且一邊擔心健康狀態一邊挑戰朝向頂峰爬著。在那個過程中會變得互相了解、並且會有感到完成的喜悅。
活著就像爬山一樣。一邊爬著會有可以休息的遮陽處、也有一邊感到肌肉張力的上坡道、也有好空氣的小路、但也有艱難地岩石。一邊爬著會遇到下山的人、也看到了坐在鋪在地上的席子上一邊吃飯休息的人們。有人會很辛苦、有人可以簡單地爬上去。有人背著大背包爬山、也有人沒有拿手提袋空手爬山。在人生這個山中我們的全部都朝著自己的目標以自己的步調繼續過著生活。
所謂一同生活、結果意味著活著共同分享與別人的親密感和喜悅。生活是一起牽著手爬山、互相討論、有人累了就一起休息、告訴迷路的人道路、與爬山下山的人們分享笑容。那樣互相了解、擁抱、重視。為了鼓勵能爬到目的地的人、給與爬上來的人們歡呼聲和拍手。這不就正是、美麗地一同生活的人生嗎。
_Lee Ae Kyoung是有很多好奇心、當上記者後發現很喜歡寫東西、到現在為止還保持著身為作家。 音樂雜誌「SEE」總編輯、「GOODDAY」作為演藝部記者活躍著、一邊身為歌手Joe Yong-pil、 Yoonha的作詞者活躍著一邊做著將故事放入歌裡的工作。寫過感性小品文「只有流出眼淚來」。因為知道文章裡有治癒的力量、給予勇氣和力量、能注入改變思考的奇蹟、今天她也在世界一邊旅行著一邊繼續寫作。
translated by WenYing, Li